Fireball Events
The Selwyn Fireball
[12-Dec-2011]
Overview of the Event
At 6:04 pm on Monday evening, December 12, 2011 (23:04 UT Dec 12) six cameras of Western's Southern Ontario Meteor Network recorded a fireball in the evening sky east of Toronto. Although this bright fireball occurred near the peak of the annual Geminid meteor shower, it is unrelated to the shower.
The slow fireball first entered the atmosphere at a shallow angle of 25 degrees from the horizontal moving at 14 km/s. It first became visible over Lake Erie then moved toward the NNE ending at an altitude of 31 km just South of the town of Selwyn, Ontario. It is likely to have dropped small meteorites in a region to the East of Selwyn near the Eastern end of Upper Stony Lake. The video data suggest an end mass that may total as much as a few kilograms, likely in the form of many fragments in the gram to hundreds of gram size range.
Researchers at the Royal Ontario Museum and at Western are interested in hearing from anyone who may have witnessed or recorded this evening event, or who may have found fragments of the freshly fallen meteorite.
For help with possible meteorites, please contact Dr. Kimberly Tait (416-586-5820) or ktait@rom.on.ca
Download high resolution images
The image below shows the event as seen from Orangeville, Ontario.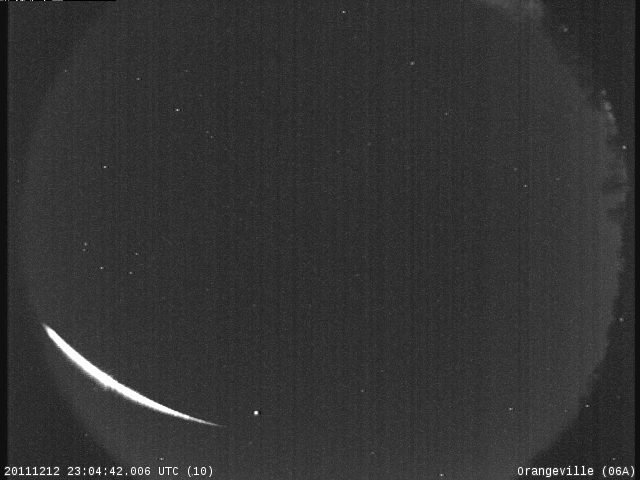 Fireball flight path
Research Activities